January
7th of January 2006
The CES show is held and Sony shows the PS3, but does not have a working/playable machine, hrere is a video taken at the event:

18th of January 2006
Sony confirm some launch titles, which include, Genji 2, Angel Rings, Monster Carnival, Everybody's Golf 5, Gran Turismo and The Eye of Judgement.
February
17th of February 2006
The PS3 is shown at the TaiPei Games Show, behind a glass screen, with rumours suggesting that the console will not be released in Spring 2006: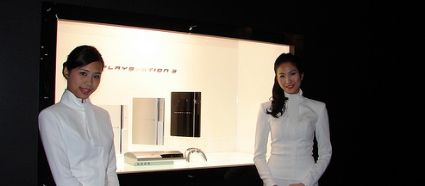 19th of February 2006
Sony stocks plummet as rumours circulate that the PS3 may possibly be delayed.
28th of February 2006
Sony releases a statement, saying that the PS3 will be delayed, with a possible Japanese release in October 2006.
March
16th of March 2006
Sony's shares yet again plummet as they reveal that the PS3 will be delayed to early November 2006
22nd of March 2006
Phil Harrison speaks at the Game Developers Conference in San Jose, at the conference he confirms that the PS3 will receive a worldwide release in November 2006 and Developers would receive Final Production Units in June 2006.
Demo's showed at the conference included, Heavenly Sword, F1 Racing, Warhawk, Motorstorm and Resistance: Fall of Man.

April
28th of April 2006
Namco Bandai reveal that they will be releasing Ridge Racer 7 for the PS3
May
1st of May 2006
Sony release details of their fourth quarter and full-year fiscal results, they state that they see big losses with the PS3 launch.
2nd of May 2006
EA announce that they will be releasing Army of Two for the PS3
2nd of May 2006
Sega reveals that they will be releasing Full Auto 2: Battlelines exclusively to the PS3.
3rd of May 2006
UbiSoft announce Assassin's Creed for the PS3.
4th of May 2006
Sony files a patent for something that looks similar to the PS Toy, you can view it here.
8th of May 2006
Sony files a patent for a "Video game controller", you can view it here.
8th of May 2006
Sony showcased their powerhouse, this time it was different, it was black, had one Ethernet port, one HDMI port and only four USB ports, it would come in two flavours, 60GB, which would be the premium console and sported a shiny coating, with a wireless Sixaxis control pad and WiFi and a 20GB which was black but had a dull coating and was minus the WiFi, one think was noticeably different, the control pad was minus the rumble function, this was due to legal problems
Sony stated that they would have a Worldwide Release in November 2006, with Japan receiving the console on the 11th of November 2006 and the price would be 59,800 Yen for the 20GB and the 60GB PS3 will have an open price which retailers will set, the US will cost $499 for 20GB and $599 for the 60GB, EU regions would cost 499 Euro for the 20GB and 599 Euro for the 60GB, you can read the E3 run down on joystiq here.
Sony also revealed the final specs, here they are:


E3 PS3 Conference 2006
A comparison between the early promise and the final release: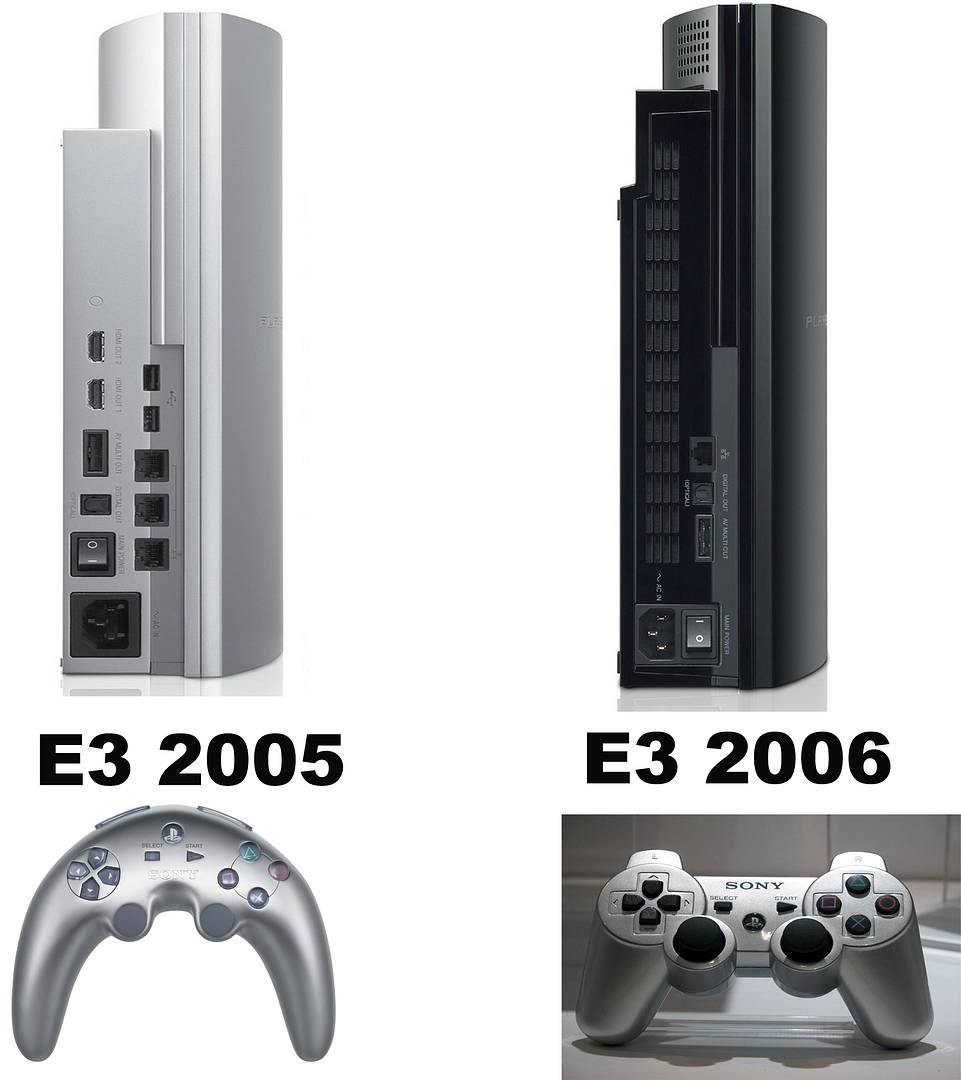 31st of May 2006
In an interview with German Magazine SPIEGEL ONLINE, Sony's Phil Harrison, strongly denies that Sony copied Nintendo's Motion Sensing idea and states that the PS3 is a computer and that no one needs a PC, here are a couple of quotes from the interview, click the "Show" button to view inside the spoiler:
[spoiler title="Read More"]
SPIEGEL ONLINE
How do you answer people who accuse you, you could have stolen Nintendo's idea of a motion-sensitive controller?

Harrison
In a way, I even understand why people say that, but it is a bit silly, if you forgive me the remark. When we brought the Playstation in 1994 on the market, we have introduced for the first time real-time graphics in 3-D. When Nintendo launched its N64 in 1996 and this could also real-time 3-D graphics, as we have said, "Nintendo, you've stolen our idea!"? Of course not. Such innovations are possible because of a combination of technology, cost and production capacity.

SPIEGEL ONLINE
And speaking of "online" – Microsoft has recently announced "Live Anywhere", is a network service that Windows computers, Xbox 360 consoles and mobile phones together. You must make the worry because you do not have the same access to the PC market as Microsoft have?

Harrison
No, it does not affect me and I do not think that it affects the consumer. If a game machine you zulegt itself, as the primary entertainment device, then you want only that we believe that the PS3 will be the place where our users play, watch movies, browse the web and use other computer entertainment functions. The Playstation 3 is a computer. We do not need the PC.
[/spoiler]
You can read the full interview here.
June
2nd of June 2006
Sony still deny copying the motion idea from Nintendo, in an interview Sony's David Reeves says this:
We've had a positive reaction to the controller and obviously some people have asked if it's a last minute thing, It's not – it's been planned for around two and a half years."
7th of June 2006
Hiroshige Goto interviews Ken Kutaragi regarding the PS3, Ken confirms what Phil Harrison said a couple of weeks earlier, by stating that the PS3 is not a Games Console, but a computer, here is the interview, click the "Show" button to view inside the spoiler:
[spoiler title="Read More"]
Hiroshige Goto
SCEI have always been saying PLAYSTATION 3 (PS3) is not a game console but a computer. In that sense, I'd thought that it's the important point for PS3 to become a computer whether it comes with HDD standard. But it had not been made clear for a while about the standard HDD. It seems it finally reached the standard HDD through all twists and turns since 2005.

Ken Kutaragi
In my heart it was decided that we want to include HDD as the standard. However, there were various problems such as economic reasons, and we might have not been able to secure enough 2.5inch drives. An HDD-less version might have been planned. In that case it completely becomes a game console, but we want to do a computer.

With these matters, we needed resolution even though we decided to include HDD.

Hiroshige Goto
For a game console HDD is an economic pressure. Unlike semiconductor chips HDD cost doesn't decrease. So it becomes 40-50$ cost-up through a life cycle of a game console. Though in the case of a game console its price is lowerd to $100-$200, it becomes difficult with HDD as the standard. Does it mean PS3 doesn't take a price model like a game console?

Ken Kutaragi
After all, we don't say it's a game console (laugh) PS3 is clearly a computer unlike PSs of so far.

Obviously we have to make it a mature hardware to a certain degree to reduce the cost when we look at it as a game console. As the methodology, we have been doing cost reduction such as chip integration and power-supply reduction. Naturally we'll do the same thing for PS3.

However, as PS3 is a computer, (not only reducing the cost) but also wants to evolve. We'll want to upgrade the HDD size very soon, if new standards appear in PC we will want to support them. We may want the BD drive to write. Well, BD may not become like that though.

The meaning in that it's not a model but a configuration

Hiroshige Goto
Since PS3 is a computer it's not bound by the limitation of the price and cost models of a game console. Is this the reason why it has HDD as the standard which is required for a computer and its hardware evolves?

Ken Kutaragi
It's a computer not only in HDD but in the point that it fully adopted standard formats. The interface was PlayStation-only memory card slot in the past. But PS3 has only PC standard slots.

Since they are standards, of course the interfaces are open. We control no standards. You can be free because it's a computer. Also HDD can be easily upgradable for a person who can play with PC.

Hiroshige Goto
Game consoles fix their hardware specs through their life cycles. But PS3 seems to approximate to PC in that it can change its configuration flexibly.

Ken Kutaragi
Since PS3 is a computer there are no "models" but "configurations". This time we try to make it clear. May as well release BTO (built-to-order) list if possible (laugh) Well, but if we do it the distribution will be confused. But, with PS3, we can do BTO if we want.

Hiroshige Goto
In an old interview you said there's no hardware called PS3 but only a meta-format. Is it possible for PS3 to do hardware configuation as long as it has the spec enough to run softwares of a certain profile?

Ken Kutaragi
That's right. So every configuration is PS3.

Hiroshige Goto
Is it planned that it extends its spec every year like PC?

Ken Kutaragi
I think it's okay to release a (extended) configuration every year (laugh). Though I say it like a joke, Dell will do it and Apple will do it too. In PC, if you fix (the spec) for 2 years you'll be catched up. Computers should be changing, right? It's inevitable that 60GB (HDD) will become short, memory may become short too. There are many possibilities.

Hiroshige Goto
Is it possible that a PS3 configuration with augmented computing power that exceeds the spec to run the PS3 game meta-format appears?

Ken Kutaragi
Yes. If what you want to do increases, it's natural. Of course, it depends on how far what you want to do goes though.

The first party showed the PS3 title standard at E3

Hiroshige Goto
At E3 first-party titles in development were playable, which had an impact.

Ken Kutaragi
Advance forcasts said something like "there'll be no playable games" (laugh). No one expected that many playable games. At least, they wouldn't think playable games reached that level.

Generally speaking, a first-party should not stick out, but we showed the broad range since it's our responsibility. We have the responsibility to show the standard first.

In the days of PlayStation 1 there were arcade games at the top as the standard softwares. So SEGA and Namco that could port arcade games were strong. Games were made with arcade games as the standard.

But, this time I think PS3 excels all standards. Because of that, we thought they can't aim where they should go unless we show the standard with confidence. As the responsibility of the first party, we have to show it not only in the platform but also in softwares and other parts. The standard is like this even months before the release. Until the PS3 release in November it evolves further and further. I think it could become a kind of the standard.

Hiroshige Goto
Relatively third parties were not noticeable. It seems there's a wide gap between the first party and third parties this time.

Ken Kutaragi
For better or worse E3 was full of the first party. After all, they know the hardware well in the company and there is a horizontal connection in the SCEI global studio. For this event we created the demo to share various information, engines, and know-how.

Until then our studios are a conglomerate of studios which stick to (SCEI organizational) regions. About half a year before, including Harrison (Phil Harrison, President, Sony Computer Entertainment Worldwide Studios) and Yamauchi (Kazunori Yamauchi, President, Polyphony Digital), we combined studios. They went offsite often, and as for E3 all studios exchanged one another and discussed everything. So it became like that.

We want top guns to show their skill on PS3

Hiroshige Goto
The computing power of PS3 Cell far exceeds PC. Though it depends on the kind of computing, its processing performance is outstanding. But its programming model is complicated and the hurdle is high. It seems third-party develpers polarize between those who can't handle Cell and those who are very excited about Cell.

Ken Kutaragi
Even at the time of PlayStation 1 those who were into 2D graphics were like "we can't handle PlayStation, I can't understand what it does, but it's OK as it has the library."

It's no doubt that game consoles are becoming computers today. As the result (programming) becomes different from so far. It's strange that they say it's hard to create a software when the processing performance of a game console gets higher. Nobody says he/she can't create a software because clockspeed, memory and HDD of PC get better and heavier. We want top gun (programmers) to show their skill on PS3.

Hiroshige Goto
For now actually, developments on PS3 rely on programmers' talents and efforts. There are not yet enough libraries and middlewares to lessen the burden on developers.

Ken Kutaragi
We continue to add middlewares. But, actually, middleware is too much for one and not enough for two. It's been always like that. It's not always true that relying on a middleware makes a good game. At least in PS3, it becomes disastrous if you don't know where to use middlewares and where to be careful.

Hiroshige Goto
Microsoft try to realize the programming framework which was successful on PC on a game console too. They are adding standardized socket APIs on the OS.

Ken Kutaragi
Since Microsoft is coming from PC, they say things are like that in the world of PC. But, if I look at it, I think it has no evolution.

Hiroshige Goto
In the previous console generation, the directions of SCEI, Microsoft, Nintendo, these 3 companies were different but the difference was not so big. But, this time 3 companies turn to completely different directions. There are dramatic differences.

Ken Kutaragi
Isn't it good if it can energize the market? If they say the same things they'll end up killing each other.
[/spoiler]
You can read that entire interview here.
8th of June 2006
The Second Hiroshige Goto/Ken Kutaragi interview is released, you can read it here.
9th of June 2006
The Third Hiroshige Goto/Ken Kutaragi interview is released, you can read it here.
14th of June 2006
The Fourth Hiroshige Goto/Ken Kutaragi interview is released, you can read it here.
July 
25th of July 2006
In an interview with Next-gen.biz, Ryan Bowling who is a PR manager with SCEA, stated the commitment they had with developers, here is a quote:
To date we have shipped more than 10,000 development systems to 208 companies in 11 countries, the largest number ever for a PlayStation platform.
August
2nd of August 2006
Yoshihito Koyama, SNK's marketing manager, has stated that the company will not start developing for the PS3 until 2009.
2nd of August 2006
Sony Announce a PS3 Memory Card Adaptor, which will let people who plan to but the PS3, to grab game saves of their hardware PS1 and PS2 Memory Cards.
18th of August 2006
GameSpot speak to Kaz Hirai, regarding the PS3's future and availability/shortages at release, Kaz also states that the PS3 is not yet in production, you can read it here.
22nd of August 2006
In an interview with Ryan Schneider a spokesperson for Insomniac Games, it is revealed that the size of space used on a Blu Ray disc, for the game Resistance: Fall of Man is 22GB, which almost the entirety of a single layer Blu Ray.
28th of August 2006
Biologists reveal that they plan to utilise PS3 to help fight Alzheimer's and Cancer, PS3 owners will be able to download an app and it will run in standby, the app is known as Folding At Home or F@Home
31st of August 2006
Sony reveal that they might need to half the amount of consoles due to be produced, due to a shortage in Blu Ray diodes.
September 
6th of September 2006
Sony announces that the PS3 will not be released in Europe in November, instead they plan to postpone it until March 2007
15th of September 2006
Electronics website Audio Cubes, puts the 60GB PS3 on Pre Order at a whopping $999.
22nd of September 2006
The Tokyo Game Show is held today, Sony's main focus was Gran Turismo HD.
27th of September 2006
Sony's Jack Tretton in an interview with Bloomberg, reveals that Sony plans to give 15,000 PS3 Kiosk units to American and Canadian retailers.
October 
2nd Of October 2006
Kikizo interviews Kazuo Hirai regarding the PS3:

Video property of:
https://archive.videogamesdaily.com/features/ps3_kazhirai_vidiv_oct06.asp
5th Of October 2006
Logitech announce that they will be releasing a ChillStream control pad for the PS3, this control pad keeps the players hands coll through the built in fan.
10th Of October 2006
EB GameStop and start taking Pre Orders for the PS3
10th Of October 2006
Terra Soft reveal that they are to build a Cell based Super Computer from PS3's
17th Of October 2006
Terra Soft announces that it is to release Yellow Dog Linux v5.0 for the PS3, it will be packed with the following components, kernel 2.6.16, gcc 3.4.4 and glibc 2.4, Cell SDK 1.1, OpenOffice.org 2.0.2, FireFox 1.5.0, Thunderbird 1.5.0 and Nautilus 2.1.4
18th Of October 2006
Phil Harrison speaks about the PS3, here is what he had to say:
Already, at our launch titles, we're getting up close to the 25GB limit that we have on our Blu-Ray discs this year," he claimed. "Next year we'll raise that to 50GB, and I'd expect that we'll be getting close to that in the fairly near future as well.
19th Of October 2006
In a statement to GamesIndustry.biz, Sony states that it is illegal to import PS3 consoles without permission from SCE, here is a quote:
The law is clear; importing PS2, PSP or PS3 into the EU, without the express permission of SCE is illegal. Therefore, we will utilise the full scope of the law to put a stop to any retailers who chose to do this.
Ultimately, we're trying to protect consumers from being sold hardware that does not conform to strict EU or UK consumer safety standards, due to voltage supply differences et cetera; is not – in PS3's case – backwards compatible with either PS1 or PS2 software; will not play European Blu-Ray movies or DVDs; and will not be covered by warranty.
26th Of October 2006
Sony release a video advertisement, discussing the Cell Broadband Engine:

November
8th of November 2006
The creator of Pong Nolan Bushnell, says he PS3 will probably fail, here is what he said during an interview with RedHerring.com:
I think Sony shot themselves in the foot. There is a high probability [the PS3] will fail.
The price point is probably unsustainable. For years and years Sony has been a very difficult company to deal with from a developer standpoint. They could get away with their arrogance and capriciousness because they had an installed base. They have also historically had horrible software tools. You compare that to the Xbox 360 with really great authoring tools [and] additional revenue streams from Xbox Live… a first party developer would be an idiot to develop for Sony first and not the 360. People don't buy hardware, they buy software.
11th of November 2006
PS3 released in Japan, the event in Yurakucho was attended by Ken Kutagri, here are some images and video of the event, click the "Show" button to view inside the spoiler:
[spoiler title="Read More"]
Video
Images
11th of November 2006
[Official Firmware Release – v1.10]
This is the very first firmware released by Sony, it was released on the PS3's Japanese release day and adds PSN and Remote Play.
11th of November 2006
[Game Release – Blu Ray]
Sega Golf Club

Ridge Racer 7

Resistance Fall Of Man

Mobile Suit Gundam: Crossfire

Genji: Days of the Blade
[Game Release – PSN]
Blast Factor

Mainichi Issho
11th of November 2006
Japanese website PC Watch disassembles the PS3, to view the awesome images, click this link.
11th of November 2006
Several people start camping outside a Best Buy store in Burbank, California, waiting for the PS3's release, thats eight days before it is due to be released in America.
13th of November 2006
[Game Release – Blu Ray]
14th of November 2006
Reports suggest that the PS3 is having problems playing certain PS1 and PS2 titles
16th of November 2006
[Game Release – Blu Ray]
16th of November 2006
People who are waiting in a line at a Best Buy in Lexington, Kentucky, for the PS3 released, are attacked along with a news reporter in a drive by shooting, the weapon used was a BB Gun….
16th of November 2006
Ebay UK bans UK Ebayers from selling any PS3 consoles until March 2007, this is to stop people importing PS3's then charging extortionate prices.
17th of November 2006
The PS3 is released in America today.
Here are a group of people racing to get in line to buy PS3's:

Kaz Hirai had this to say about the consoles release:
With today's launch of PS3, we are officially ushering in a new era in true next-generation entertainment for homes all across North America.
The innovative PS3 system features powerful technologies and capabilities that have never been brought together in one system, including the Cell Broadband Engine, BD drive, HDD and online connectivity as standard features of every system. The results are breathtaking new interactive worlds to explore, eye-popping multimedia functionality, and a fully integrated online experience — all in high- definition clarity. The value we are providing consumers with PS3 is beyond compare.
Whilst Jack Tretton had this to say:
We're thrilled that PlayStation fans are anxious to get their hands on PS3 and are working around the clock to meet that demand with additional shipments during the busy holiday season and beyond.
With the incredible technology and value packed into PS3, we expect rapid adoption of the system around the world, and we are ready to support that market growth.
There are more interesting stories from this day, to check them out, click the "Show" button to view inside the spoiler:
[spoiler title="Read More"]
Videos
Images

Criminal Acts
Whilst the release events were awesome, some events were plagued with criminal acts, here is a list of them, thanks to joystiq.com
As a line of PlayStation 3 hopefuls gathered outside of the Putnam, Conn., Wal-Mart, two armed gunmen demanded money from those in line, one person ended up getting shot because he resisted the demands of the gunmen.

In a separate incident at two gunmen entered a GameStop in Elk Grove, California and left with four PS3's.

In another incident, two gunmen steal five PS3's from Englewood, Ohio EBGames store.

A 17 year old has his PS3 stolen at gunpoint in Pennsylvania.

A student from Wilmington gets beaten and both his PS3's stolen as he unloads them from his vehicle.

A man ends up in hospital after slamming into a metal flag pole during a stampede at West Bend Wal-mart.

A man gets mugged outside Manchester, CT Mall.
[/spoiler]
17th of November 2006
The PS3 is also released in Taiwan and Hong Kong today.
17th of November 2006
[Game Release – Blu Ray]
Tony Hawks project 8

NBA 07

Tiger Woods PGA Tour 07

NBA 2k7 (North America)

Need For Speed Carbon

Call Of Duty 3

Untold Legends: Dark Kingdom

Madden NFL 07

Marvel: Ultimate Alliance
[Game Release – PSN]
21st of November 2006
With the continuous reports of Backwards Compatibility problems with the PS3, so they open a website to help people search for PS1/PS2 games they owned, to see if that game had any problems playing on the Ps3
22nd of November 2006
[Game Release – Blu Ray]
23rd of November 2006
Koei postpones two PS3 games, Fatal Intertia and Bladestorm until March 2007
23rd of November 2006
Taco Bell gives a PS3 owner the chance to give to charity and get free Taco's, by trading their PS3 for 20,000 Taco's.
23rd Of November 2006
[PS3 Hacks – Homebrew/Exploit]
CJCP from ps3news.com, dumps(Back's Up) the very first PS3 game(First documented)
26th November 2006
[PS3 Hacks – Homebrew/Exploit]
DCEMU reports that a someone called deadsoulasis promised a ISO loader for the PS3, here is what he said, click the "Show" button to view inside the spoiler:
[spoiler title="Read More"]
No your eyes dont trick you ….its very close……
As we unpack the PS3 games we notice its very close to the PSP.
Testing my 'Load game off hard drive' for the past week.Ive noticed the file differences and winhex'ed the files.No surprise that the eboot's are similar in hex.
As for now my Beta PS3 Loader will be soon online no sooner then December 10th….for tester's on there own machine's.
And as of this morning ..Ive successfully loaded Ridge Racer 7 and Resistance both running off a Hard Drive ..(albit external) No BR disc in drive.
Id like to thank PSP's Booster and Dark_Alex for devhook/custom firmware's….without it I wouldn't have be able to find a way …
Dont ask me for files,code,or how to do it.
There is 3 beta testers as of now and December 10th it will be online for download …and before you ask.Its free.It will require your bio's to be Re-flashed and BR-drive though.
Thank you.
PS3 loader coming December 20th.2006.
PlayBeyond.
Prepare yourself
Prepare your Hard drives
Its coming………
©deadsoulasis®
[/spoiler]
Full thread here.

26th Of November 2006
[PS3 Hacks – Homebrew/Exploit]
The very first Ps3 game rip, was uploaded to the internet, this was done by a well known warez scene group called Paradox, here is a quote from their readme, click the "Show" button to view inside the spoiler:
[spoiler title="Read More"]
| P * A * R * A * D * O * X |
: :
|_________________________________________________ _________________________|
| ___ _ _ ___ |
| \__\\\ \ . R E L E A S E I N F O R M A T I O N . / ///__/ |
| |
| > Madden 2007 (c) EA Sports < |
| |
| cOMPANY : EA Sports | rELEASE DATE : 25 Nov 2006 |
| sYSTEM : PlayStation 3 ! | sIZE : 67 x 100mb |
| tYPE : Wierd Shape Ball | vIDEO MODE : NTSC/USA |
| Game |
| sUPPLIER : F0ny | cRACKER : G0d |
|_________________________________________________ _________________________|
| ___ _ _ ___ |
| \__\\\ \ . R E L E A S E N O T E S . / ///__/ |
| |
| Well everyone here it is – the world's first accessable PS3 rip ! |
| (We heard someone released something but we couldnt find anything |
| concrete so thought we'll release it anyways!) |
| |
| We may be quiet on the release front (Why do all the suppliers |
| go to 'lesser' groups ?) but we here at PARADOX dont sit around |
| doing nothing – OK maybe most of us do, but some of us actually |
| earn our money and have managed to rip this little baby for your |
| pleasure. Granted it may end up being a bad rip or even totally |
| unusable like the initial PS1/2/PSP/XBOX/XBOX360 releases but |
| without them I doubt we would be able to play them now. |
| |
| No doubt there will be many other groups releasing all the release |
| titles but coz were skint and cant afford to buy em all were only |
| gonna do the ones we managed to get from Blockbusters And as |
| many as our 56k modems can upload this year |
| |
| – – – – – – – – – – – – ALWAYS REMEMBER – – – – – – – – – – – – – |
| LEGENDS MAY SLEEP, BUT THEY NEVER DIE!! |
| – – – – – – – – – – – – – – – – – – – – – – – – – – – – – – – – – |
| HERE TO INNOVATE NOT IMITATE |
[/spoiler]
26th of November 2006
[PC Software Used With PS3]
Red Kawa File Server v1.0 is released, which allows PS3 owners to view media files stored on their home computers on their consoles via the PS3's Web Browser.
28th of November 2006
[Official Firmware Release – v1.11]
This Firmware add's Account Management
28th of November 2006
Two men are arrested for the shooting of a person, during a robbery of people waiting in line for PS3's at the Putnam Wal-Mart on the 17th of November 2006.
30th November 2006
Jack Tretton is named president and chief executive officer at SCEA replacing Kaz Hirai.
30th November 2006
[PS3 Hacks – Homebrew/Exploit]
On the Maxconsole forum, deadsoulasis, promised a method of running backups, here is what he said in his thread, click the "Show" button to view inside the spoiler:
[spoiler title="Read More"]
First of all id like to say ive been busy with life/work/modding.
Secondly there is alot of disbelieve towards me and 2 more I cant mention on this.But besides that…lets get to why…
I have successfully loaded the game dumps on HDD.Now I will say this was not done cheaply at all…
First off this works off of embedded DR-I thats on the chips.(plus emulated firmware but its alot to explain out.)Congrats goes to Booster for the new devhook.He does amazing work for the PSP scene.
You will need a PS3 and my chip.Plus 4 sets of adators.
Now this comes at a cost …of course…
So you will need a PS3 (no kidding)
You will need a external hard drive.
750 gig is the way to go for now.
Yellow Dog Linux.Offical release
More details to come.This will be released very soon
I do not support piracy though…But Im sure there is 1000's here that dont buy software.Its those ones that hurt the industry more then I did.
To get my chip you have to take apart the PS3.
You will need to solder 34 wires to the mainboard and chipset(s) RSX-SPE-s and the bois.
My chip only is for sale pre-installed.Before you start to ***** about it.I could see alot of hate cause of bricks cause you believe you can do it yourself's.
I will sell it as a bundle
My DeadCell chip,wiring,complete instructions
Hard drive,everything hooked up in one box.
Now onto the Price.
Its only $599.99 Canadian funds.(without the PS3)
With the PS3 it's only $1599.99.
Now to be clear ..this plays games off the Hard Drive.
Its easy to dump them.I will include everything 'How to's'
Now I ask you…is this worth it?Possible.
Or just ask yourself this question.
Haven't I and yourself done enough Piracy and got games for free all this time.You know it to be true.
Sooner or later the time comes when you have to support dev's in making games.Or else in the future …they will pack it in and call it quits..I would hate to see that happen though but the way its going …It seems to be with everything being a copy of a copy…like it or not.The time has come for change.Nothing in life is free.
Something to REALLY think about before the hoidays..
Ill give more details on the acual Release day of my package very soon..
Post #53 of the thread said this:
due to lack of funds and my supplier not coming through ..
My chip/PS3/ has been put 'on hold'..NOT cancelled.

But as for the bashing …I was expecting much more…
I am working on a devhook style 'emu firmware' for PS3 as well…
Since everyone has had negative feedback towards me…

Your right ..I probably wont release anything out

Time to just face the fact you have to pay for your game/systems the legal way.On a side note.I have successfully run every game from the HDD so far and I payed for my games.You should as well.

Now zip your lips about it when you dont know me or my team.
More to come later.
Post #68:
I can see everyone still is being negative towards me..
Thats fine and dandy …Im used to it on a forum…reality is your expecting something for nothing …not gunna happen ..

And I was gunna release my full plan online and I said modchip but its acually a chipset based off of X-Ice X2 PS2 chip just revised ..

Seeing how I got such negative replays and hate messages …

Your right…I will release nothing on the net…
Do it yourself

And do yourselfs another favour…just buy legal games and quit being so whiny…while Ill enjoy my backup's …have fun with your Blu-Ray drives when they fail …(I have had my samsung Stand only fail on me (took that apart though)and 1 ps3 already (again taken apart to find out various things so probably my own fault)…But I have 2 more coming in mid december so I can tinker around some more with them)

If you showed something positive towards this …Its a shame cause I was ready to release all the details and everything here …not now though ..

Have fun …
By now it should be apparent that he is a fake, possibly the first fake of the PS3 scene, here is post #72:
yah and it you ever read …
Its a chip (set) wiring and a 750 gig drive for $599.99
The drive alone is $389.45 my cost,adaptors total $56.45

Do the math..just under $450,my custom chip $150.00(approx)
and to make it clear its a chip you can buy right now for PS2 …figure it out
But modified to work on PS3 easily ..acually I did it in like 5 hours of linux programming from my laptop….

And it was pre-installed anyways …point people didnt get was its a opened PS3 …but its still brand new but now that I have alot of hate towards me …forget it …My plans have dropped for being nice
[/spoiler]
He continues to argue and talk rubbish on the thread, which you can read here.
December
1st of December 2006
[Game Release – PSN]
1st of December 2006
Polyphony Digital announce that they have stopped working on Gran Turismo HD
1st of December 2006
[PS3 Hacks – Homebrew/Exploit]
Team Xecuter uncovered what they called "Hyperdrive", it let you use various HardDrives such as 3.5″ IDE drives, to extend the size of your internal storage, here is some information about it, click the "Show" button to view inside the spoiler:
[spoiler title="Read More"]
Features:
* Connect any 3.5″ SATA Hard Drive to the PS3
* Developing ability to connect IDE hard drive
* Supports upto 750GB (maybe more thats all we have here)
* Switch between external HYPERDRIVE and internal 2.5″ HDD
* HYPERDRIVE USB2.0 Support to dump data to/from HDD

When you connect the system announces the drive requires formatting etc and then promptly begins to prep it. All system settings are unchanged so they are stored internally to the PS3 and not on the HDD.

We can assure you that larger hard drives will be essential in the near future. After speaking to colleagues from the Playstation Scene, booting games from HDD is possible and not far off. As the games are blu-ray (17gb+ dumps available) then the larger HDD the better, and you wont get very large and cheap 2.5″ drives, however 250GB 3.5″ drives are close to $60 these days.

We may release a simple adapter first so you can hook up with ease right now rather than wait for release of the HYPERDRIVE, that won't take too long at all to release.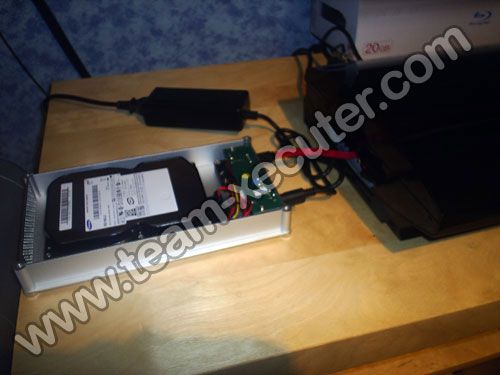 [/spoiler]
1st of December 2006
An 18 year old suspected of robbing the student at Wilmington of his two PS3's on the 17th of November 2006 is shot and killed by police, whilst they were executing a search on the premises, witnesses said the 18 year old was unarmed and the police officer who shot him also shot his dog.
2nd of December 2006
A third man is arrested in connection with the shooting of a person, during a robbery of people waiting in line for PS3?s at the Putnam Wal-Mart on the 17th of November 2006.
2nd of December 2006
[PS3 Hacks – Homebrew/Exploit]
Warez group Paradox release a dumped version of Marvel Ultimate Alliance on the internet, in the NFO the playable status is marked as "soon".
5th of December 2006
[Game Release – Blu Ray]
5th of December 2006
Sony's e-Distribution Initiative (EDI)(PS Store) goes live.
5th of December 2006
Julian Eggebrecht president of Factor 5, reveals that the company will be releasing games for Sony's e-Distribution Initiative (EDI)(PS Store).
6th of December 2006
[Official Firmware Release – v1.30]
This adds better compatibility for PS2 related USB devices.
7th of December 2006
[Game Release – PSN]
8th of December 2006
wraggster releases a method to use the PS3's Sixaxis on a PC/Laptop
12th of December 2006
[Game Release – Blu Ray]
Full Auto 2: Battlelines

Blazing Angels: Squadrons of WWII
13th of December 2006
[Official Firmware Release – v1.31]
This add's better compatibility for PS1/PS2 games, also add's the ability to save some PS2 games to the HDD.
14th of December 2006
[Game Release – Blu Ray]
15th of December 2006
The Asia Game Show(AGS) started today and was mostly a Sony/PS3 conference
18th of December 2006
The Asia Game Show(AGS) ended today, with Sony doing quite well, during the event they sold over 1000 PS3's.
18th of December 2006
In an interview with MTV, Phil Harrison states that no developer will ever use 100% of the PS3's power, here is a quote of that statement:
Nobody will ever use 100 percent of its capability due to firmware upgrades and new uses for the Sixaxis controller, I fervently believe that the biggest challenge we face is that our industry is referred to as 'video games,' and games are supposed to be fun. Games should deal with fear, should deal with comedy and with death. They should deal with peril, with drug offenses.
21st of December 2006
[Official Firmware Release – v1.32]
This updates the online gaming functionality.
21st of December 2006
[Game Release – Blu Ray]
Sonic the Hedgehog

Armored Core 4

Railfan: Chicago Transit Authority Brown Line
24th of December 2006
After being cancelled, what remains of Gran Turismo HD, is given away free to US PS3 Gamers.
27th of December 2006
[Game Release – PSN]
Tekken 5: Dark Resurrection
27th of December 2006
Warez release group Paradox release another PS3 Dump on the internet, it is the Japanese version of Motorstorm and the NFO that comes with it, claims the game is playable.
28th of December 2006
[Game Release – Blu Ray]
Formula One Championship Edition
31st of December 2006
[Game Release – Blu Ray]
31st of December 2006
[PS3 Hacks – Homebrew/Exploit]
PS3News confirms that Paradox have got a working ISO Loader for the PS3, here is what was said on their forum, click the "Show" button to view inside the spoiler:
[spoiler title="Read More"]
Here is what I can 100% confirm thus far: Paradox DO have a PS3 iSO Loader already. It works by running the PS3 iSOs from the HDD via an exploit/security vulnerability in Firmware v1.00-1.10. Newer versions may work as well, however, speaking with them these are the only versions they have confirmed to me thus far as exploitable/fully working with it.
The good news is, similar to PSP we won't have to open our $600 PS3 consoles to be able to run PS3 back-up images… nor will we have to mess with expensive Blu-ray burners or BRD media. 
The bad news is, as soon as news (specific tech info) of the actual exploit is public $ony will patch it IMMEDIATELY and it will be useless until another is found. This is obvious of course, but stock PS3's here in the US are already coming shipped with 1.10 firmware versus 1.00 so I'm sure it won't be long until they get shipped with even higher from the factory. 
Finally, as to why else is Paradox waiting on releasing their loader? Well, unofficially speaking (since it's all just rumors anyway until something tangible is released) I've heard two reasons as follows:
1) They are waiting for the EUR PS3 launch before they share their PS3 exploit(s) publically since THEY (Paradox) are primarily a EUR release group… meaning their members wish to get as low of "stock FW" version as possible upon launch, versus releasing the exploit(s) now and then being stuck with 3.xx firmware with even more hole patches/protection for their families and friends, etc which wouldn't likely run PS3 iSOs for some time yet.
2) They are waiting on more GOOD games to come out for PS3 before sharing the exploit(s). This is because if they do it now, then $ony developers will simply update their $DK's/libs/etc and the new games will not work with their exploit(s) anyway… and the current limited number of PS3 games on the market (to them) simply aren't "worthy" of being exploited publically yet.
[/spoiler]